Fly into our remote northeast corner of Alberta and join us to witness one of the wonders of the world – The Amazing Aurora Borealis! 
Our Latitude of Canada's 60th Parallel borders the Northwest Territories and offers incredible opportunities to see the magical lights on display.
This region has near 24 hour daylight in June & July, however by late August and through September the evening provides darkness with no distortion form the towns and cities hundreds of kilometres away.
All of this without having to bundle up for winter conditions. Daytime high temperatures can average a pleasant 15 to 20 degress Celsius and the evenings can get down into the single digits with occasional mornings dipping to below freezing showing a brilliant display of frost.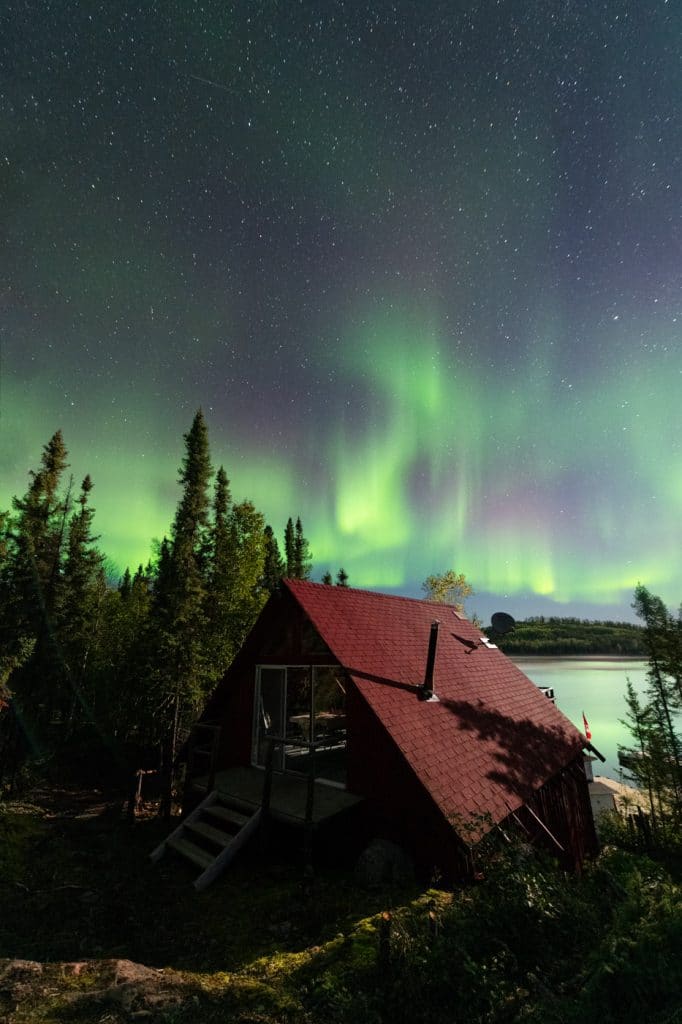 Aurora Photo tips at Andrew Lake
Packages can depart from Edmonton, Fort McMurray or Fort Smith. For guests departing from Fort Smith, we recommend a side trip through Wood Buffalo National Park. We also offer free pre trip accommodation at our base in Fort Smith.
Andrew Lake
Lodge & Private Guest Cabins
Aurora Borealis & Wildlife Viewing Packages
| | | | |
| --- | --- | --- | --- |
| From | Fort Smith | Fort McMurray | Edmonton |
| 3 Nights | $1395 | $1995 | $2695 |
| 4 Nights | $1595 | $2195 | $2895 |
| 7 Nights | $2195 | $2795 | $3495 |
Group discounts on 6 or more people $100 per person
Option at Andrew Lake:
Add Full Service With all Meals at  $200 / Night
Packages Include: Return airline/air charter, accommodation, cooking utensils, fridge, stove, dishes, unlimited use of boat, motor & fuel, life jackets, landing net, satellite telephone and fly-in camp checks.
Transport Canada Now Requires That All Passengers Must Have A Face Cover Before Entering Security/Boarding Flight
Passengers Will Be Required To Wear Mask For the Duration Of the Flight Passengers Are Required To Inform Air Crew If They Have Symptoms Of Covid-19
We are now recommending that guests bring disinfectants for cleaning, use disposable Paper plates,  plastic cups and eating utensils.
FREE overnight pre-trip accommodation and FREE Parking in Fort Smith (1336 km paved highway from Edmonton) 
Not Included: Taxi cab from airport to seaplane base (if required), sleeping bag & pillow, food, liquor, towel, fishing gear & license (purchase online at www.alberta.relm)
From Fort Smith – FREE baggage weight 100 pounds, additional weight at $700 for extra flight up to 700 pounds
From Fort McMurray –  Baggage weight 100 pounds, includes 50 pounds free and additional weight $0.75/pound up to 100 pounds.
Note: food and alcohol can be ordered and flown into lake in advance, $700 for flight from Fort Smith up to 700 pounds.  
FREE delivery to lake pre order beverage only option.
Gratuity to pilots is additional; $20 per person is common.
Contact us Today to plan your Aurora Adventure!